Google Analytics is a free tool from Google that allows you to monitor the visits and activity on your site. It is a great way to stay in touch with how your website is doing so that you can make good, informed decisions about how to improve your web presence.
With your Portfolio site, you can see a snapshot of what is going on with your site from within your control panel, making it super simple to see your visit counter and other important statistics. 
In order to use this feature, you'll first have to set it up. To get started, click on your Portfolio icon, then click on the site analytics tab. From there, click on the settings icon toward the top right.

In this section, you'll be asked for your Tracking ID. Click here for instructions on how to find your Tracking ID in your Google Analytics account.
Note: If you don't already have a Google Analytics account, you'll need to set it up first. To access Google Analytics, click here.

Enter your Google Analytics ID (a number starting with UA), then click on save changes. Make sure to also go to publish and click on publish now.
Please note it can take up to 24 hours after you enter your Google Analytics ID and publish your site for Google to begin tracking your site's activity.
After Google has been tracking your site, you can set up your account to show a brief Google Analytics report within your Portfolio control panel. From the site analytics tab, click on the orange Access Google Analytics button. 

After that, you will get a pop up from Google asking you to sign in to your account. Enter your email that is associated with your Google Analytics account and click on Next then enter your password and log in.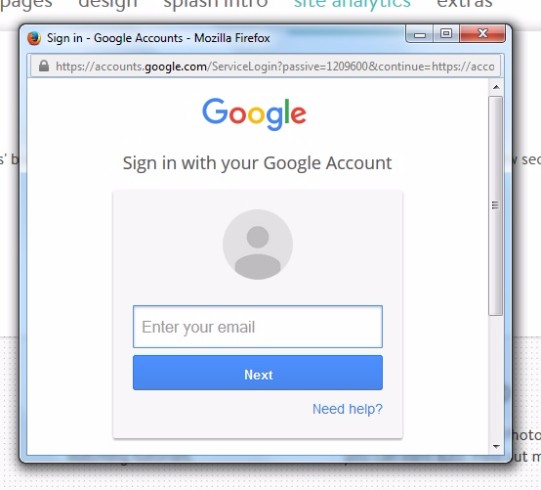 You may also have to allow Photobiz to have access to your Google account information. Click on the Allow button.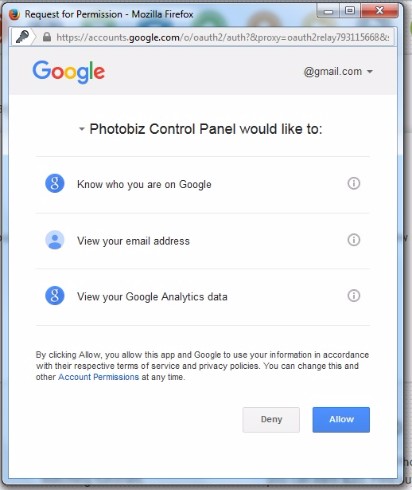 After that, you can access information on any of the sites you have set up in your Google Analytics account using the Account, Property, and View controls provided.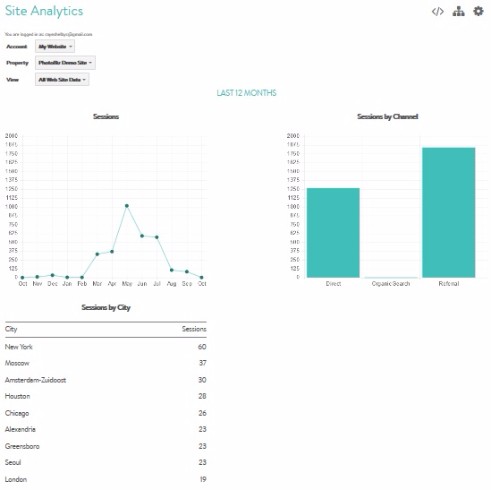 Note: To access this information you may have to log in to your Google account through your PhotoBiz control panel.
If you'd like more hands-on support with SEO, you can call our Support Team with specific questions.
We also offer our SEO GO Service if you want us to do it for you.